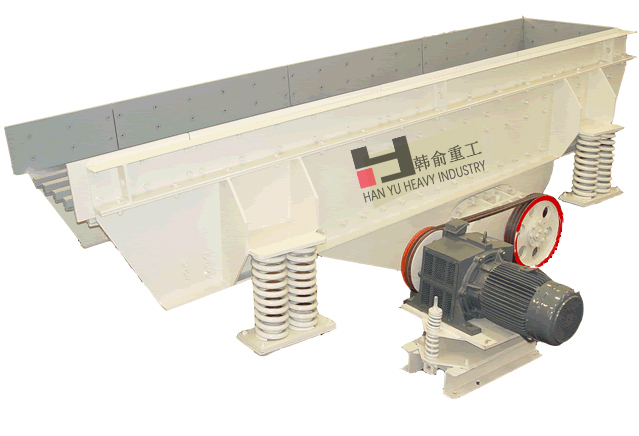 Vibration feeder (also called vibration feeder), in the process of gravel and sand production, lump, granular material can be sent from the storage bin to the material device in the storage bin in a uniform, regular and continuous way. In the sand and stone production line, the crushing machinery can be fed continuously and evenly, and the material is sieved. It is widely used in the crushing and screening equipment of metallurgy, coal mine, mineral processing, building materials, chemical and abrasive industries. It has the performance of controlling feed speed and continuity. The vibrating and linear vibrating feeder has a sieve bar. The material can be screened initially when the bar is passed through the bar, removing the non stone material and making the smaller material. The crushing capacity is increased effectively by bypassing the initial breaking and directly entering the next stage of crushing.
Performance characteristics:
1.. The machine has reasonable structure, strong rigidity, impact resistance and reliable operation.
2.. Stable vibration, wide working face, convenient discharge, long service life, convenient installation and maintenance, low running cost;
3.. According to the conveying capacity, the installation angle can be adjusted between 0~15 degrees. The efficiency is high, the feeding capacity is large, the operation is reliable, and the adaptability to various materials is strong.
4., electromagnetic speed regulation and frequency conversion speed adjustment structure (matching), easy to change the volume of transportation.
The GZD vibratory feeder (vibrating feeder) uses the eccentric block in the vibrator to generate centrifugal force to make the movable part of the screen, vibrator and so on be coercive.
The motion of a continuous circle or an approximate circle. The vibrating feeder is composed of feeding tank, exciter, spring bearing, transmission device and so on. Vibration source of tank body vibration feed
It is a vibrator. The exciter consists of two eccentric axes (main, passive) and gear pairs. The motor drives the active axis through a triangular belt and then meshes the gear on the active axis.
When the passive shaft rotates, the main and passive axes rotate at the same time, so that the tank vibrates, so that the material flows continuously and achieves the purpose of conveying materials.